We help businesses grow & grow right.
Data driven PPC management
We Are Data Obsessed & Our Results Reflect It. Whether you are starting from scratch, need someone with a fresh eye to take over your account, or are seeking for a partner to work with your clients, we can help. We're as selective as you are when it comes to selecting our partners. Our processes are adaptable to fit your goals and most budgets. We test everything. From ad copy to content ideas, we always make sure we're moving forward with the right strategy to deliver results. Mistakes in paid search are costly — especially when repeated day after day, month after month. 
There's no doubt that the internet is the go-to place for information, products, and services. SEO and the right content can help get you a good page ranking. However, there's another cost-effective manner to get a top ranking for Google and Bing search results, PPC management.
What is PPC, and what do PPC marketing companies do?
It is a type of internet marketing where advertisers place paid ads on websites and platforms, where they pay a fee each time an ad is clicked. The costs, cost per click, or (CPC) ranges from $0.05 to $50.00 for the most competitive keywords.
With most internet users agreeing that paid ads make it easier to find what they want, and most clicking on PPC ads, PPC campaigns are a must for any website.
You can increase your first-page visibility through SEO or PPC advertising and management.  SEO is also important because people generally chick organic listings instead of paid ads. However, many people even click on paid searches if it's easier to get their required information.
Besides, you can see your ads in a few hours of your setting up a pay per click account on Google Ads. However, SEO results will be evident only after a few weeks or months.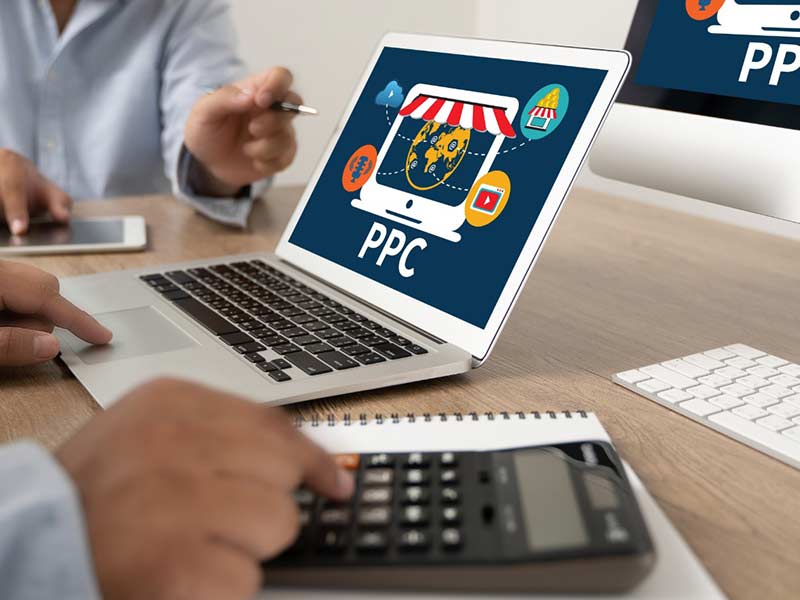 What is PPC, and what do
PPC marketing companies do?
What is the best pay per click advertising service for me?
There is no single 'best' PPC management service. It all depends on various factors like your buyer's funnel, budget, and goals. We at Ad World Media suggest getting a PPC audit done before selecting your package.
If you worry about costs, we customize each package based on your individual needs. So there's no need to worry about it.
Why should you hire a PPC agency?
We suggest you hire a PPC service for two main reasons:
Your website doesn't prominently appear on the first page multiple times.
You are losing visibility and business to your competitors.
Yes, PPC platforms are self-service platforms where you can set up and manage your PPC campaigns. However, it's better to hire PPC services for you because they have the time, expertise, and tools to maximize your ROI.
Besides, there's lots of data to analyze and interpret, and lots of complexity in PPC advertising makes it difficult and time-consuming for businesses like you to handle.
This is where PPC companies like us help. You may not have the time to answer the phone calls you receive through the PPC campaigns, and you may under-bid or over-pay for some keywords.
Hiring a full-time marketing person to manage your account can get rather expensive. It's always better for mainly small businesses to invest and outsource in cost-effective PPC advertising, management, and optimization. You have to decide and reach out to an experienced PPC specialist like Ad Wolves Media.
PPC Advertisers
Ecommerce
Teen Wolf
Google Ads
PPC Monthly Budget of $400-$1,500
Industry Research & Setup

Strategy Evaluation & Road Map

Ongoing Competitor Analysis

Web Page Analysis and Recommendations

Keyword Level Call Tracking & Lead Conversion Tracking

Monthly Conference Meetings

English & Spanish Campaigns

Ongoing Account Optimizations

Monthly Performance and Work Reports
Beta Wolf
Google Ads & Microsoft Ads
PPC Monthly Budget of $1,501-$2,500
Industry Research & Setup

Strategy Evaluation & Road Map

Ongoing Competitor Analysis

Web Page Analysis and Recommendations

Keyword Level Call Tracking & Lead Conversion Tracking

Monthly Conference Meetings

English & Spanish Campaigns

Ongoing Account Optimizations

Monthly Performance and Work Reports

Google My Business Set Up

Search, Remarketing, Display
Omega Wolf
Google Ads & Microsoft Ads
PPC Monthly Budget of $2,501-$3,500
Industry Research & Setup

Strategy Evaluation & Road Map

Ongoing Competitor Analysis

Web Page Analysis and Recommendations

Keyword Level Call Tracking & Lead Conversion Tracking

Monthly Conference Meetings

English & Spanish Campaigns

Ongoing Account Optimizations

Monthly Performance and Work Reports

Google My Business Set Up

Search, Remarketing, Display, Video
Alpha Wolf
Google Ads & Microsoft Ads
PPC Monthly Budget of $3,501-$5,000
Industry Research & Setup

Strategy Evaluation & Road Map

Ongoing Competitor Analysis

Web Page Analysis and Recommendations

Keyword Level Call Tracking & Lead Conversion Tracking

Monthly Conference Meetings

English & Spanish Campaigns

Ongoing Account Optimizations

Monthly Performance and Work Reports

Google My Business Set Up

Search, Remarketing, Display, Video
Teen Wolf
Google Ads
PPC Monthly Budget of $400-$1,500
Industry Research & Setup

Strategy Evaluation & Road Map

Ongoing Competitor Analysis

Web Page Analysis and Recommendations

Keyword Level Call Tracking & Lead Conversion Tracking

Monthly Conference Meetings

English & Spanish Campaigns

Ongoing Account Optimizations

Monthly Performance and Work Reports

Shopping Campaign up to 100 Products
Beta Wolf
Google Ads & Microsoft Ads
PPC Monthly Budget of $1,501-$2,500
Industry Research & Setup

Strategy Evaluation & Road Map

Ongoing Competitor Analysis

Web Page Analysis and Recommendations

Keyword Level Call Tracking & Lead Conversion Tracking

Monthly Conference Meetings

English & Spanish Campaigns

Ongoing Account Optimizations

Monthly Performance and Work Reports

Google My Business Set Up

Shopping Campaign up to 200 Products

Search, Remarketing, Display
Omega Wolf
Google Ads & Microsoft Ads
PPC Monthly Budget of $2,501-$3,500
Industry Research & Setup

Strategy Evaluation & Road Map

Ongoing Competitor Analysis

Web Page Analysis and Recommendations

Keyword Level Call Tracking & Lead Conversion Tracking

Monthly Conference Meetings

English & Spanish Campaigns

Ongoing Account Optimizations

Monthly Performance and Work Reports

Google My Business Set Up

Shopping Campaign up to 300 Products

Search, Remarketing, Display, Video
Alpha Wolf
Google Ads & Microsoft Ads
PPC Monthly Budget of $3,501-$5,000
Industry Research & Setup

Strategy Evaluation & Road Map

Ongoing Competitor Analysis

Web Page Analysis and Recommendations

Keyword Level Call Tracking & Lead Conversion Tracking

Monthly Conference Meetings

English & Spanish Campaigns

Ongoing Account Optimizations

Monthly Performance and Work Reports

Google My Business Set Up

Shopping Campaign up to 500 Products

Search, Remarketing, Display, Video